On the last days of August 2021, Noelia from Persona Curada reached out to me with a proposal to run together for an open call by The Others Art Fair. On the occasion, the fair, based in Turin, had made an open call for young curators to liaise with exhibitors and bring afore an exhibition project throughout the days of the fair. The curator would get 1000 euros and the exhibitor the booth for free. I had been thinking of working with affection and the feeling of estrangement and the proposal came at the right time to build something of my own. Though I was quite busy and the whole affair seemed a bit rushed, I thought trying would not hurt anyone. I am a big fan of Marisabel's work and her latest approach to hand-made processes in the shape of Rococo-looking birthday cakes was a sculptural dream come true. I have been a long admirer of Ingrid's photography and performance, her ritualistic and respectful relationship to rituals of the everyday are inspiring in the way they teach us to recalibrate our relationship to earth beyond the skin. I was introduced to Sofia's work through Noelia, they were working on another project at the time. Sofia's work was ever lucid in her desire to capture the intricate dynamics of trade and misplacement that a globalised object goes through, her objects are sentient, an organic living matter which challenges you about your own relationship to objects and question why such relationship has only been reduced to mere economic transactions.

I spent the next few weeks in angst and anxiety about whether I would be curating an exhibition soon. When the results were announced, we knew we had to pull through a titanic effort to get this together, as the price of 1000 euros was the only funding available to secure many payments: artists' fee, transport of pieces, insurance, marketing, graphics design and curatorial fees. I decided to split the price between the three artists and myself, each getting 250 euros, which could cover transport and lodging fees for the artists to stay at Torino for the duration of the fair. This was my first time curating at a Fair, I felt challenged but also satisfied with the end result. Cecilia, one of the administrators of the fair, was so helpful and lovely and her help at the end was crucial. So were the artists, Marisabel, Sofia and Ingrid were key to wrapping the booth together, they all were involved in the process of painting the lilac band and installing the artworks in the booth. I learnt a lot from this process, and for the future, I have learned to accept that if all parties cannot be adequately funded and remunerated, sometimes though hard, one has to learn to pass on offers. But I do not regret this at all, thanks to "Ai Miz Yu", I was able to work with three kick-ass artists from Latin America currently based in Europe, question. my own relationship to objects and what role they have in the contemporary art industry and had the most fun writing a text with the help of the music of Colombian singer, Shakira.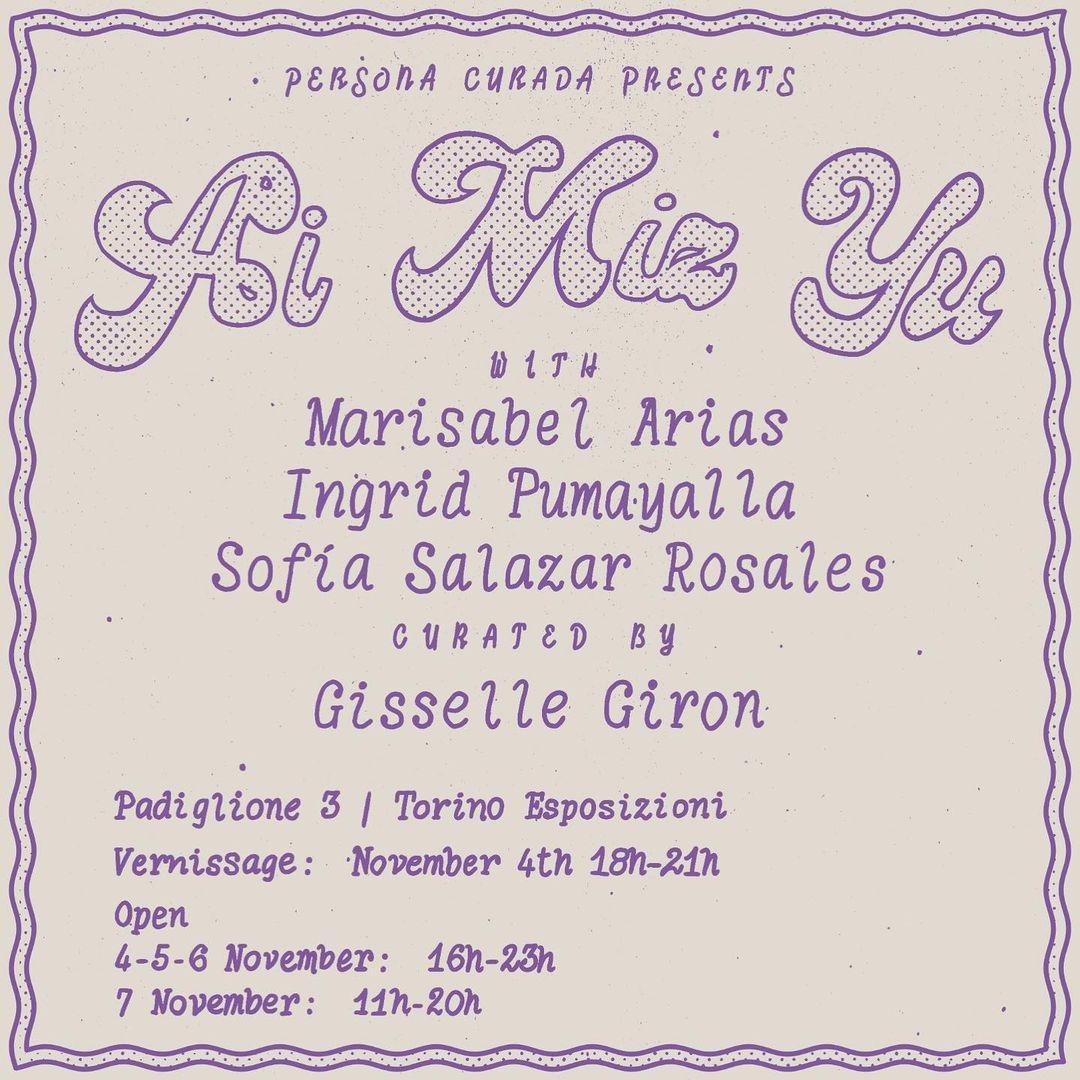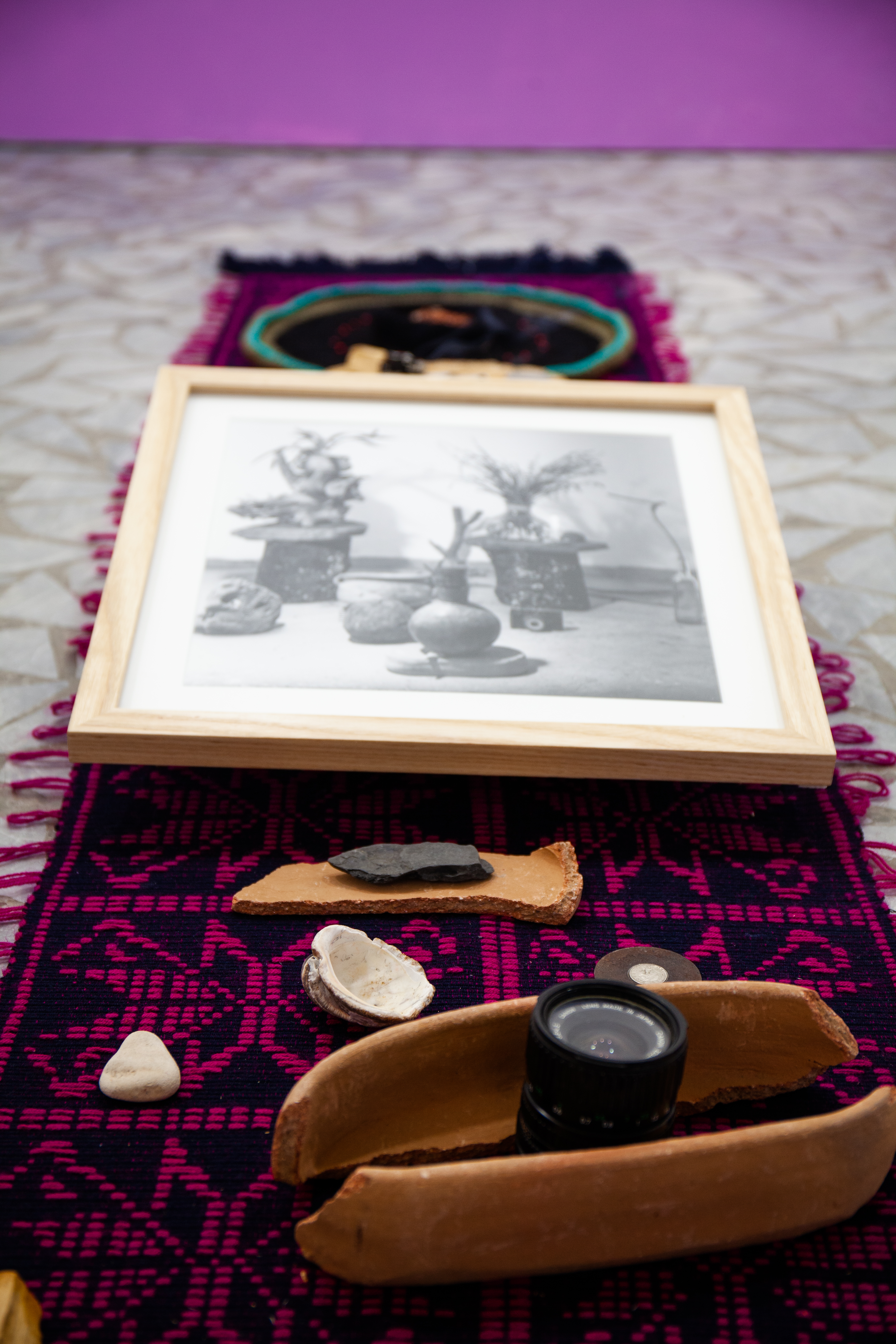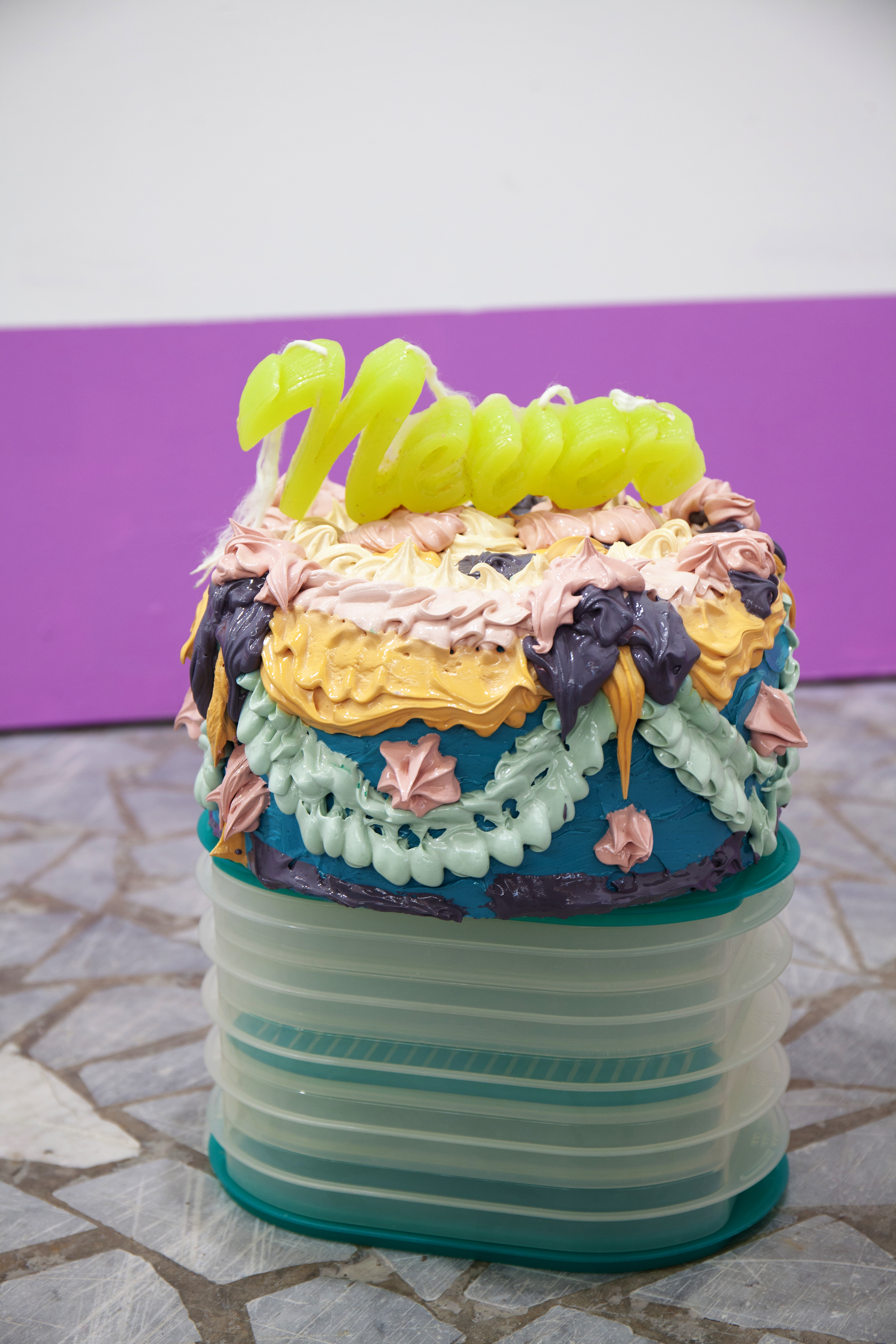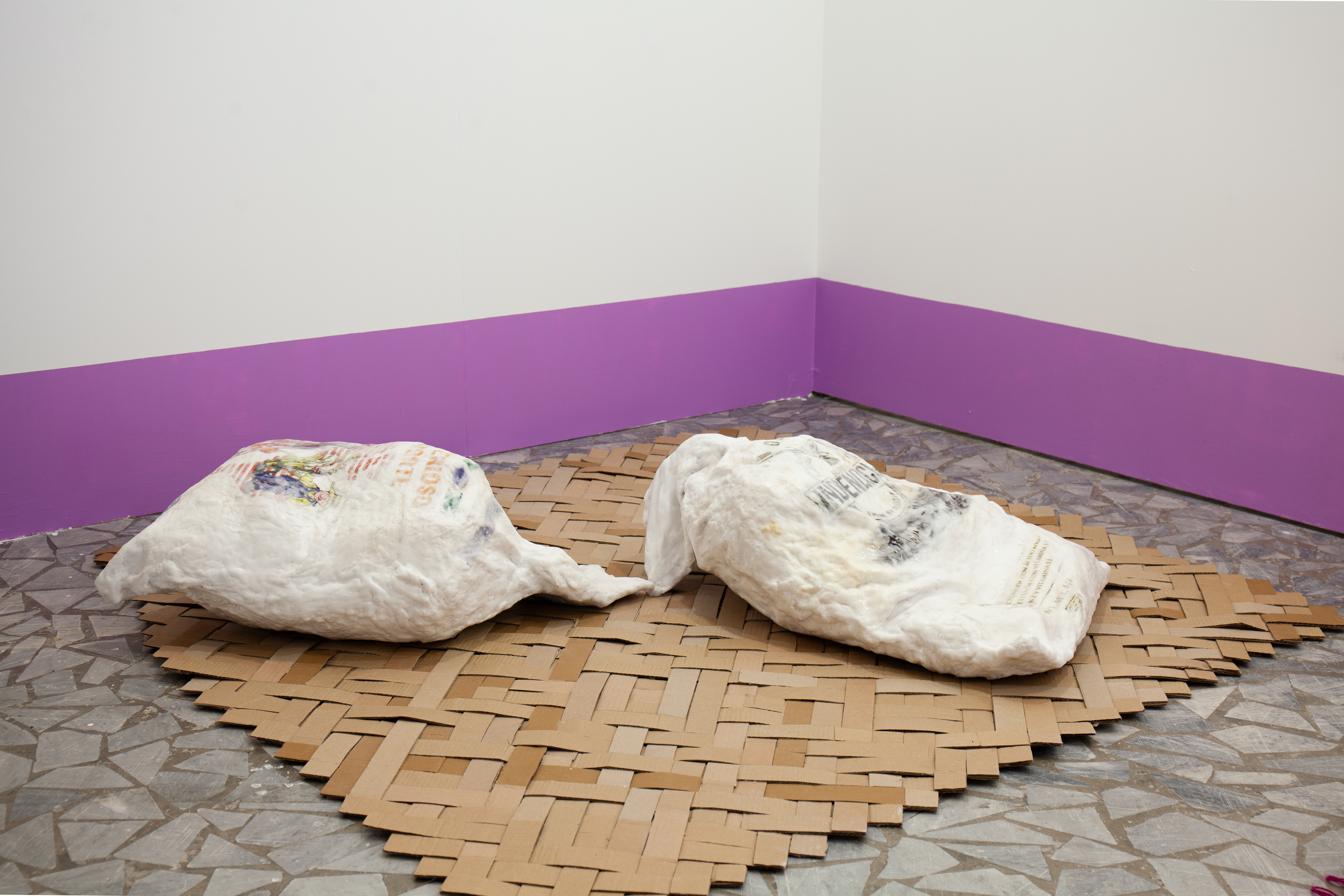 En los últimos días de agosto de 2021, Noelia de Persona Curada se puso en contacto conmigo con una propuesta para colaborar en una convocatoria abierta de The Others Art Fair. En esta ocasión, la feria, con sede en Turín, había hecho una convocatoria abierta para que jóvenes comisarios se pusieran en contacto con los expositores y llevaran a cabo un proyecto expositivo durante los días de la feria. El comisario recibiría 1.000 euros y el expositor el stand gratis. Había estado pensando en trabajar con el afecto y el sentimiento de extrañeza y la propuesta llegó en el momento adecuado para construir algo propio. Aunque estaba bastante ocupado y todo el asunto parecía un poco precipitado, pensé que intentarlo no haría daño a nadie. Soy una gran admiradora del trabajo de Marisabel y su última aproximación a los procesos artesanales en forma de tartas de cumpleaños de aspecto rococó era un sueño escultórico hecho realidad. Hace tiempo que admiro la fotografía y la performance de Ingrid, su relación ritualista y respetuosa con los rituales de lo cotidiano son inspiradores por la forma en que nos enseñan a recalibrar nuestra relación con la tierra más allá de la piel. Conocí el trabajo de Sofía a través de Noelia, ya que en ese momento estaban trabajando en otro proyecto. El trabajo de Sofía era siempre lúcido en su deseo de capturar la intrincada dinámica del comercio y el extravío que atraviesa un objeto globalizado, sus objetos son sensibles, una materia viva orgánica que te desafía sobre tu propia relación con los objetos y cuestiona por qué dicha relación sólo se ha reducido a meras transacciones económicas.

Pasé las siguientes semanas con angustia y ansiedad por saber si iba a curar una exposición pronto. Cuando se anunciaron los resultados, sabíamos que teníamos que hacer un esfuerzo titánico para llevarla a cabo, ya que el precio de 1.000 euros era la única financiación disponible para asegurar muchos pagos: honorarios de los artistas, transporte de las piezas, seguros, marketing, diseño gráfico y honorarios del comisario. Decidí dividir el precio entre los tres artistas y yo, recibiendo cada uno 250 euros, con los que se podía cubrir los gastos de transporte y alojamiento de los artistas para que se quedaran en Turín durante la feria. Era la primera vez que curaba en una feria, me sentí desafiada pero también satisfecha con el resultado final. Cecilia, una de las administradoras de la feria, fue muy servicial y encantadora y su ayuda al final fue crucial. También lo fueron los artistas, Marisabel, Sofía e Ingrid fueron clave para envolver el stand, todas ellas participaron en el proceso de pintar la banda lila e instalar las obras en el stand. Aprendí mucho de este proceso, y para el futuro, he aprendido a aceptar que si todas las partes no pueden ser financiadas y remuneradas adecuadamente, a veces aunque sea duro, uno tiene que aprender a pasar de las ofertas. Pero no me arrepiento en absoluto, ya que gracias a "Ai Miz Yu" pude trabajar con tres artistas de América Latina radicados actualmente en Europa, cuestionar mi propia relación con los objetos y el papel que tienen en la industria del arte contemporáneo y me divertí mucho escribiendo un texto con la ayuda de la música de la cantante colombiana Shakira.
Some annotations about the process behind the making of the exhibition:
- Not hanging anything on the wall and placing all the artworks on the floor was a 100% intentional curatorial decision. When choosing the artworks, I wanted to question our relationship to objects by inverting the traditional display of 2D artworks. No longer on the wall or in display cases, the objects force you to physically change your position in order to view them properly. You have to kneel, crouch, and get on the floor. Sofia, Marisabel and Ingrid are no strangers to placing artworks on the floor, and I knew that they would understand and be able to engage in a conversation questioning ways to change the relationship between viewers and the artwork.

- In order to draw attention to the floor, as it was very likely that many other booths would indeed use the wall to hang artworks, we needed to think strategically. Persona Curada wanted to paint one of the walls, but I thought this would only draw more attention to the emptiness of the wall. Then I thought perhaps a band surrounding the booth along its footer would work to immediately draw attention to the floor. What colour would work best with all the artworks? I needed to find one that would enhance all the artworks and not be overly protagonist. And I had to return to something that had inspired me for this exhibition.

- I drew the title for the exhibition in "Candice" font. Some years ago when I was looking through my mother's personal archives I found a wedding invitation with this font, it was a 1977 wedding which invited guests in a similar font, it was also handwritten and seemed to be a traced copy of the font, which I imagine was commercially popular at the time. I wanted to use this font, and I would later find myself using the same colour of this invitation to paint the wall, which coincidentally the designer used for the exhibition digital flyer.

- "Ai Miz Yu" is a phonetic translation in Spanish of the English phrase "I miss you". Yes, at the time I was missing everything about Peru, struggled to think of myself as living in England, to be honest as of May 2022, I still do. The artworks present in the exhibition worked also like a bit of a personal compass to recalibrate my own relationship with objects. It is so different here, without the same tenderness and rapport with the objects, in the deep desire to animate the inanimate I needed to curate this show.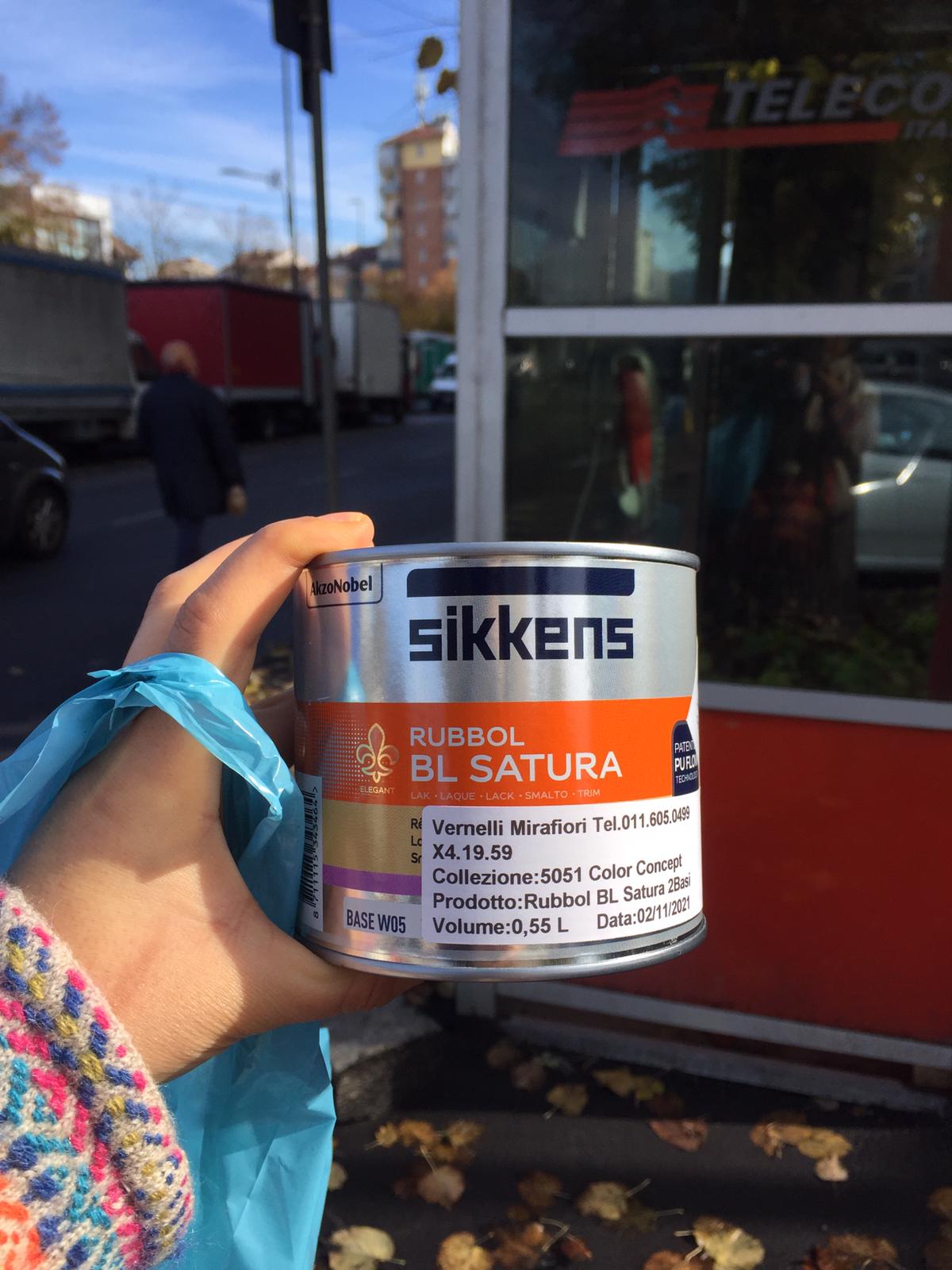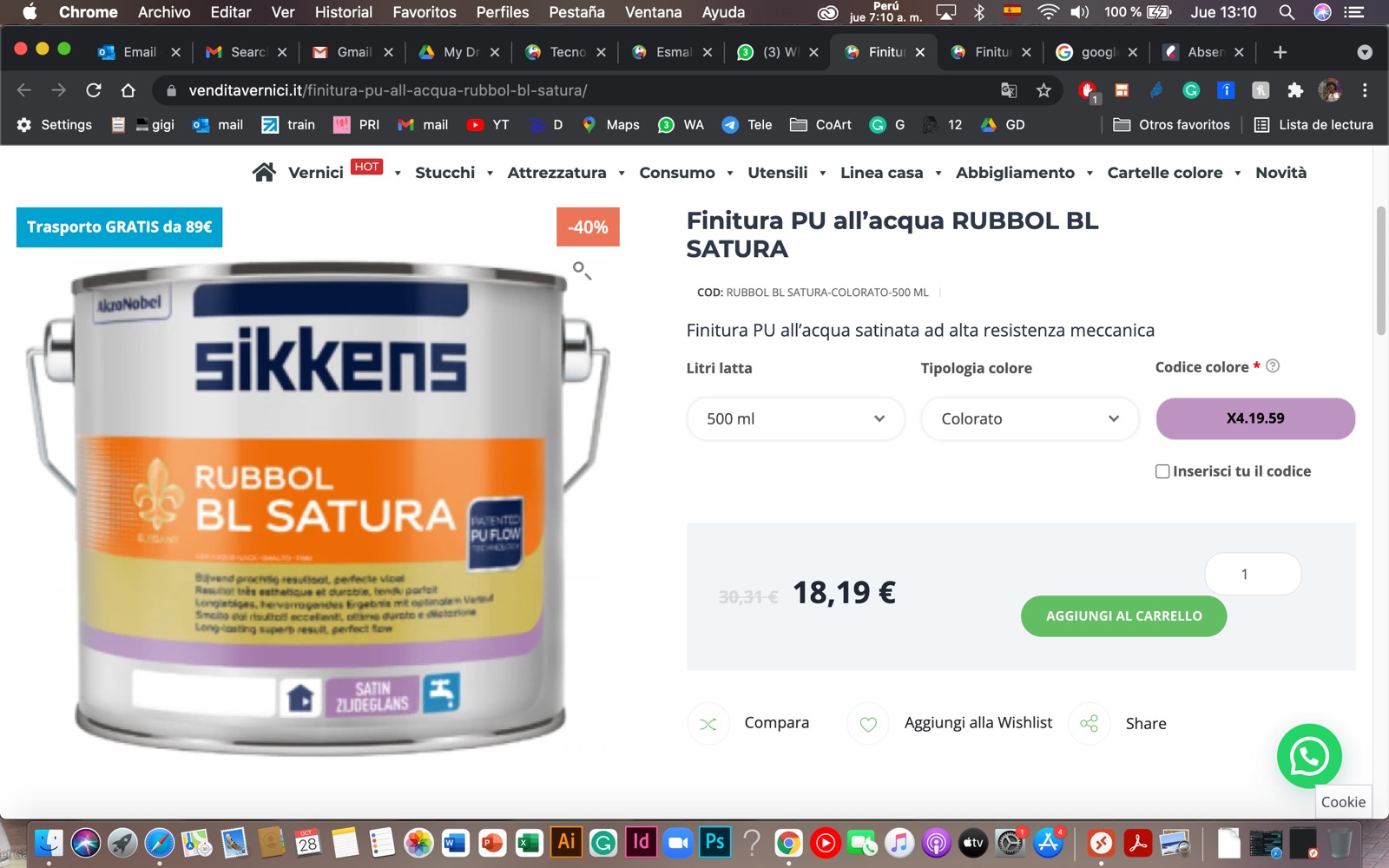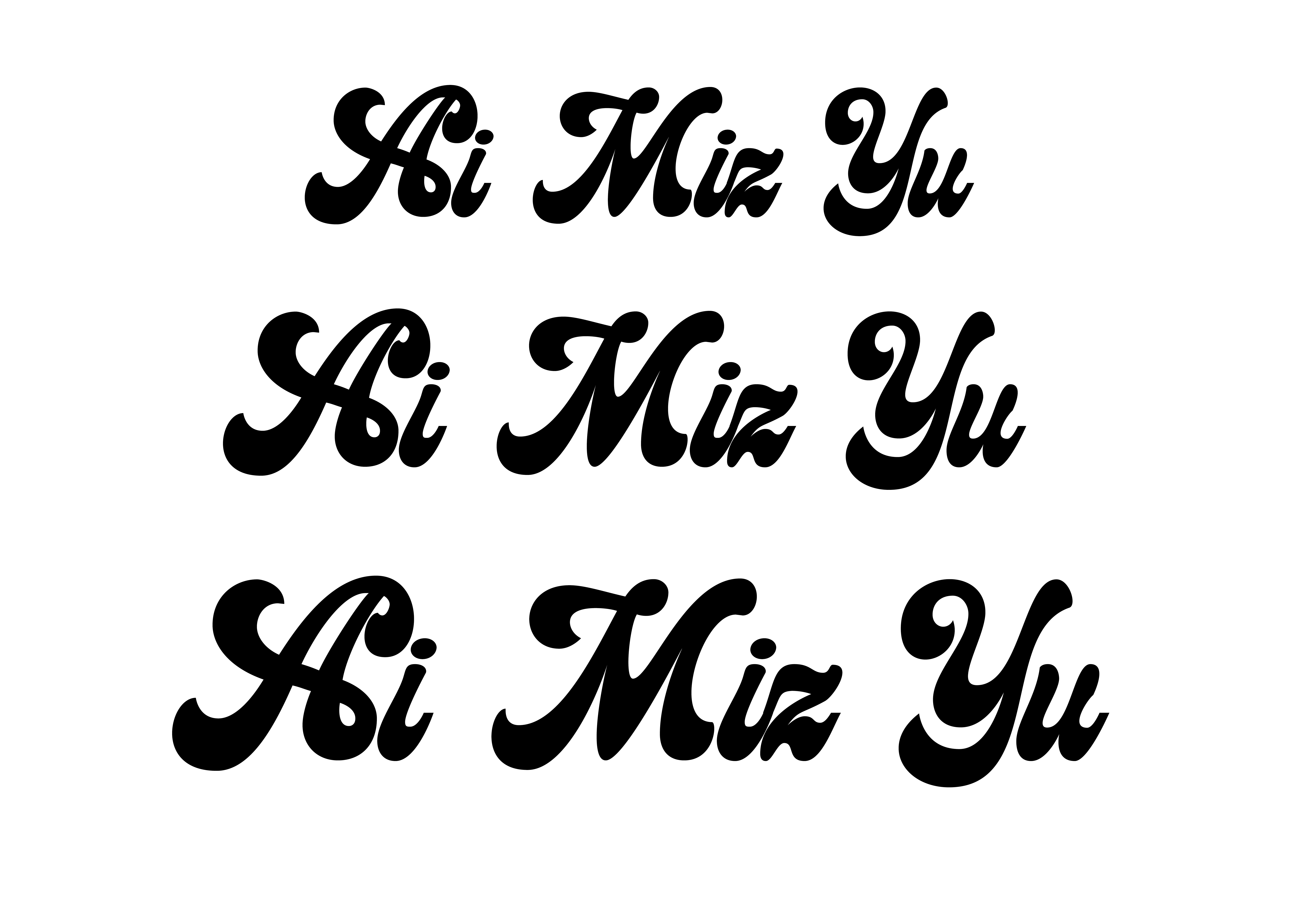 Algunas anotaciones sobre el proceso de realización de la exposición:
- No colgar nada en la pared y colocar todas las obras en el piso fue una decisión curatorial 100% intencional. Al elegir las obras de arte, quería cuestionar nuestra relación con los objetos invirtiendo la visualización tradicional de las obras de arte en 2D. Ya no están en la pared o en vitrinas, los objetos te obligan a cambiar físicamente tu posición para poder verlos correctamente. Tienes que arrodillarte, agacharte y tirarte al suelo. Sofía, Marisabel e Ingrid no son ajenas a la colocación de obras de arte en el suelo, y sabía que entenderían y podrían entablar una conversación cuestionando formas de cambiar la relación entre los espectadores y la obra de arte.

- Para llamar la atención sobre el suelo, ya que era muy probable que muchos otros stands utilizaran la pared para colgar obras de arte, necesitábamos pensar estratégicamente. Persona Curada quería pintar una de las paredes, pero pensé que esto solo llamaría más la atención sobre el vacío de la pared. Luego pensé que tal vez una banda que rodeaba la cabina a lo largo de su pie de página funcionaría para llamar la atención de inmediato sobre el piso. ¿Qué color funcionaría mejor con todas las obras de arte? Necesitaba encontrar uno que realzara todas las obras de arte y no fuera demasiado protagonista. Y tenía que volver a algo que me había inspirado para esta exposición.

- Dibujé el título de la exposición en letra "Candice". Hace algunos años cuando estaba buscando en los archivos personales de mi madre encontré una invitación de boda con esta fuente, era una boda de 1977 que invitaba a los invitados en una fuente similar, también estaba escrita a mano y parecía ser una copia calcada de la fuente, que Me imagino que era comercialmente popular en ese momento. Quería usar esta fuente, y más tarde me encontré usando el mismo color de esta invitación para pintar la pared, que casualmente usó el diseñador para el volante digital de la exhibición.

- "Ai Miz Yu" es una traducción fonética en español de la frase en inglés "I miss you". Sí, en ese momento extrañaba todo sobre Perú, luchaba por pensar en mí mismo como viviendo en Inglaterra, para ser honesto a partir de mayo de 2022, todavía lo hago. Las obras de arte presentes en la exposición funcionaron también como una especie de brújula personal para recalibrar mi propia relación con los objetos. Es tan diferente aquí, sin la misma ternura y sintonía con los objetos, en el profundo deseo de animar lo inanimado que necesitaba para curar esta muestra.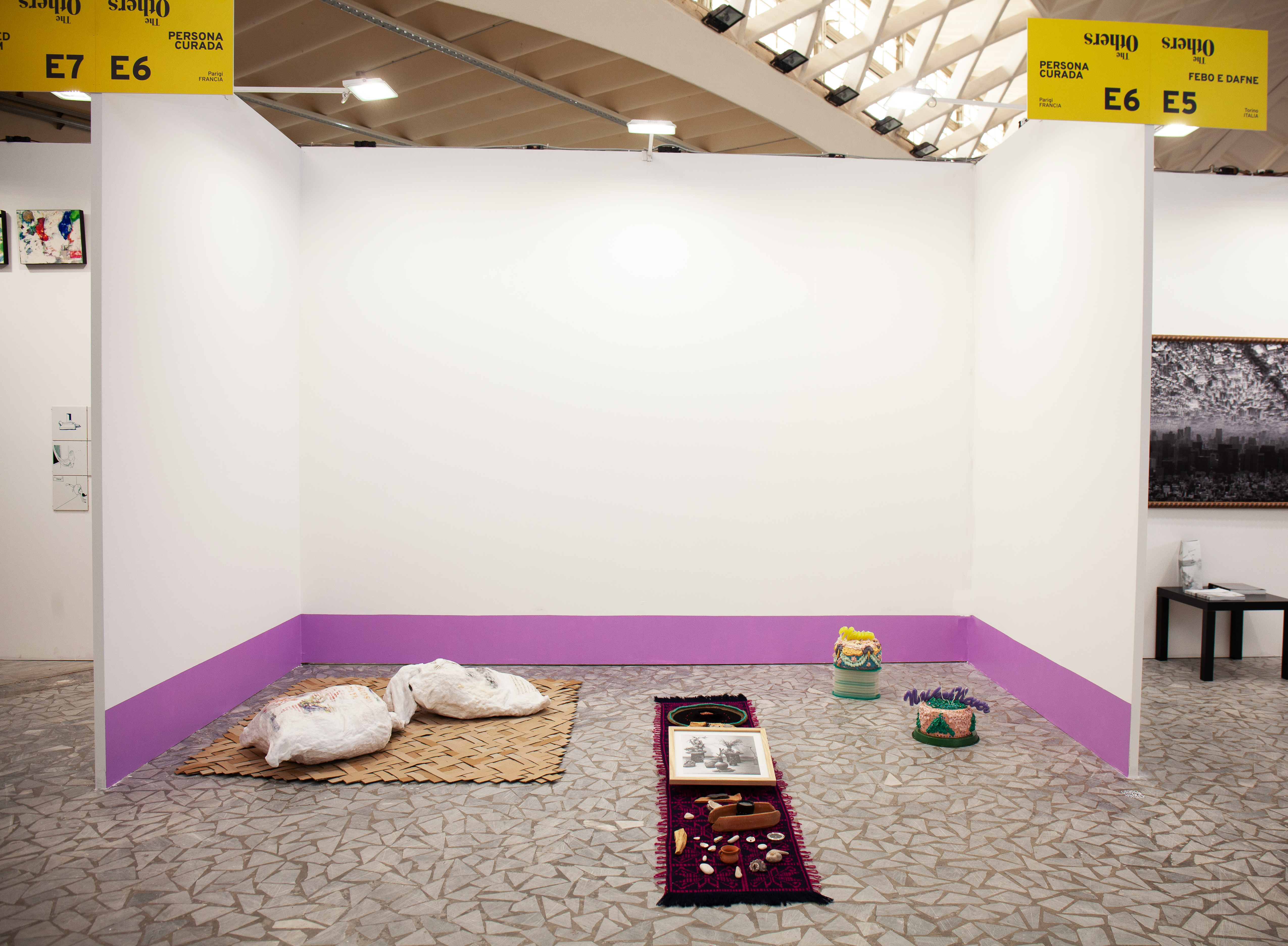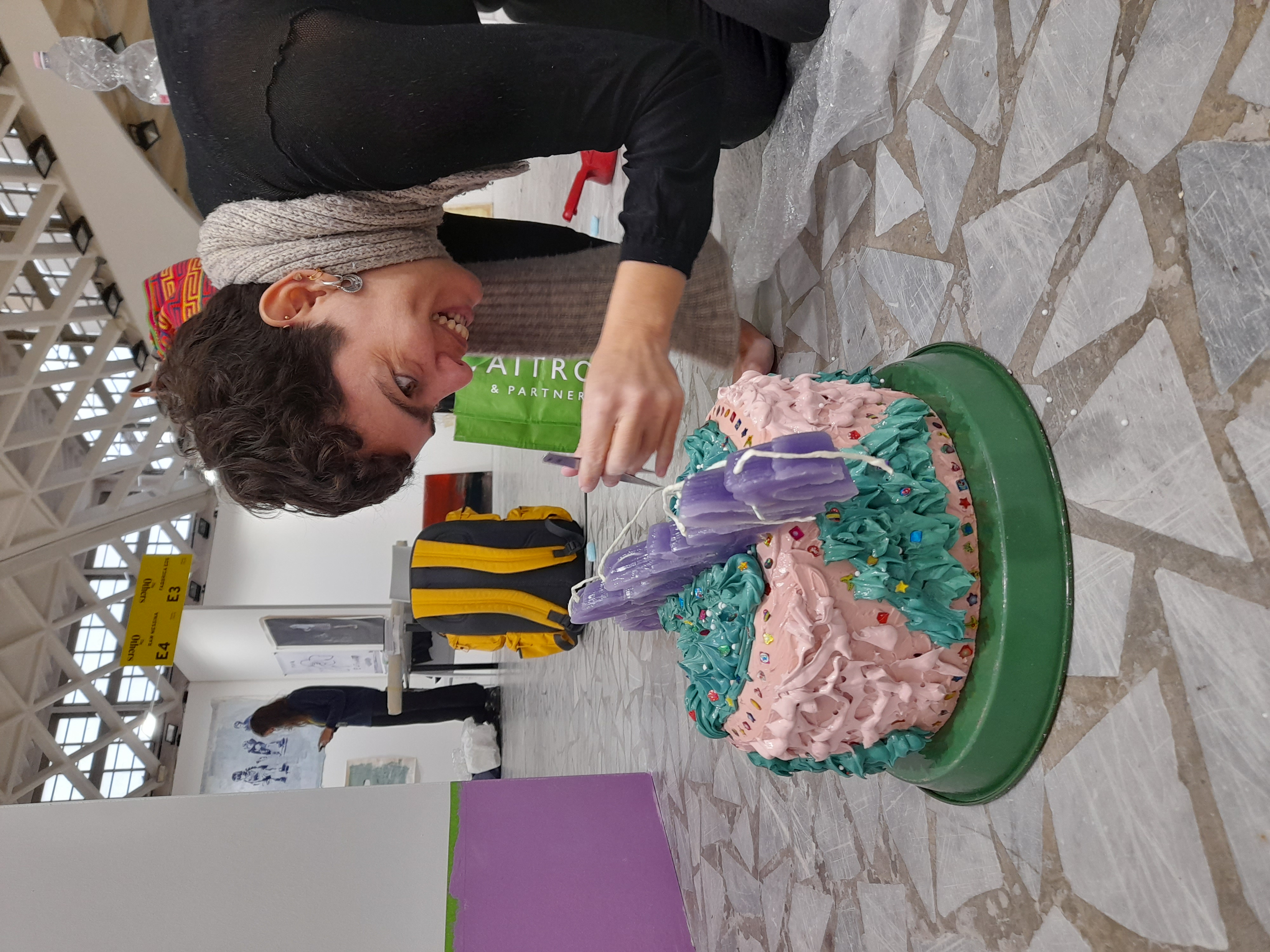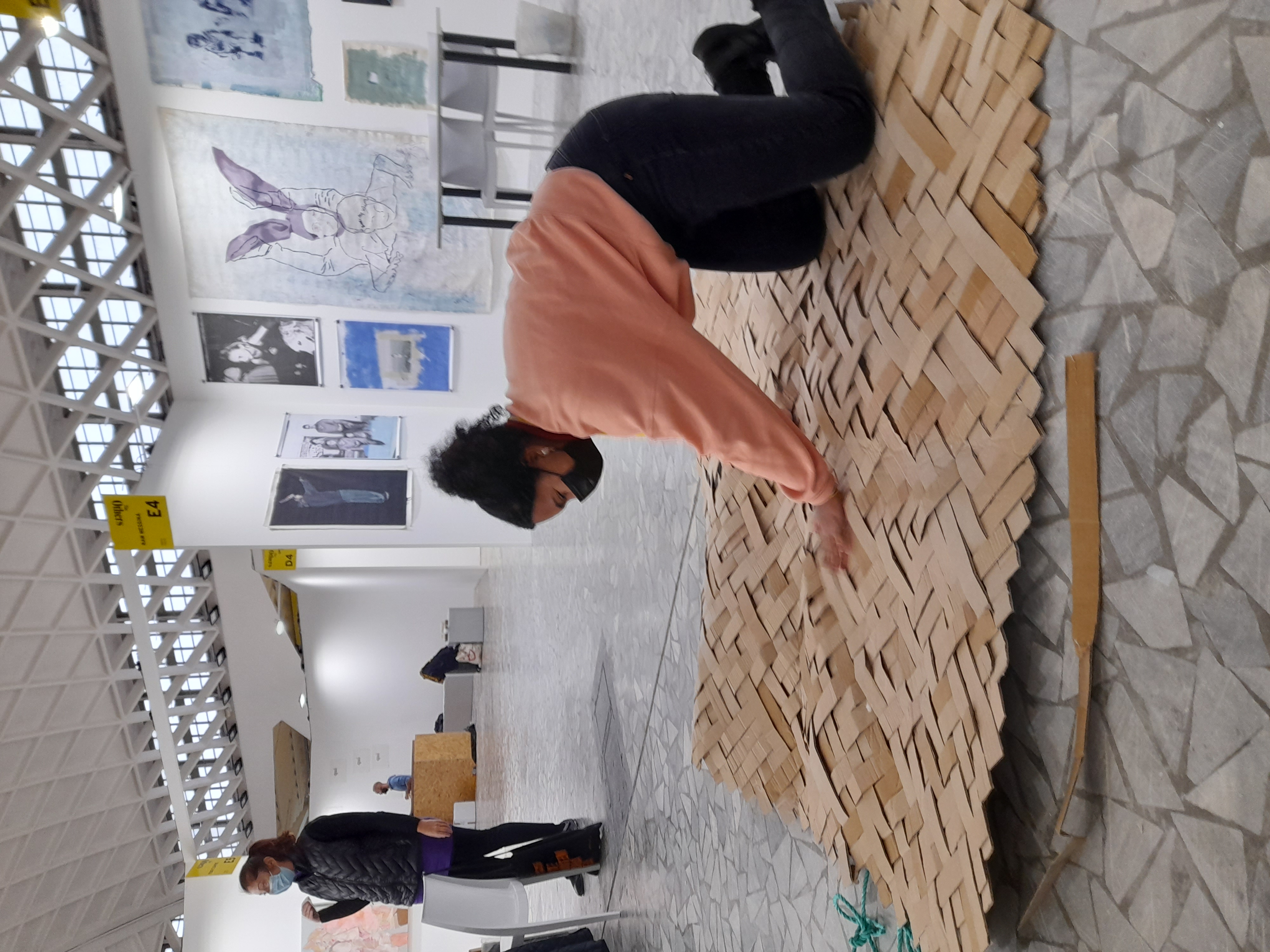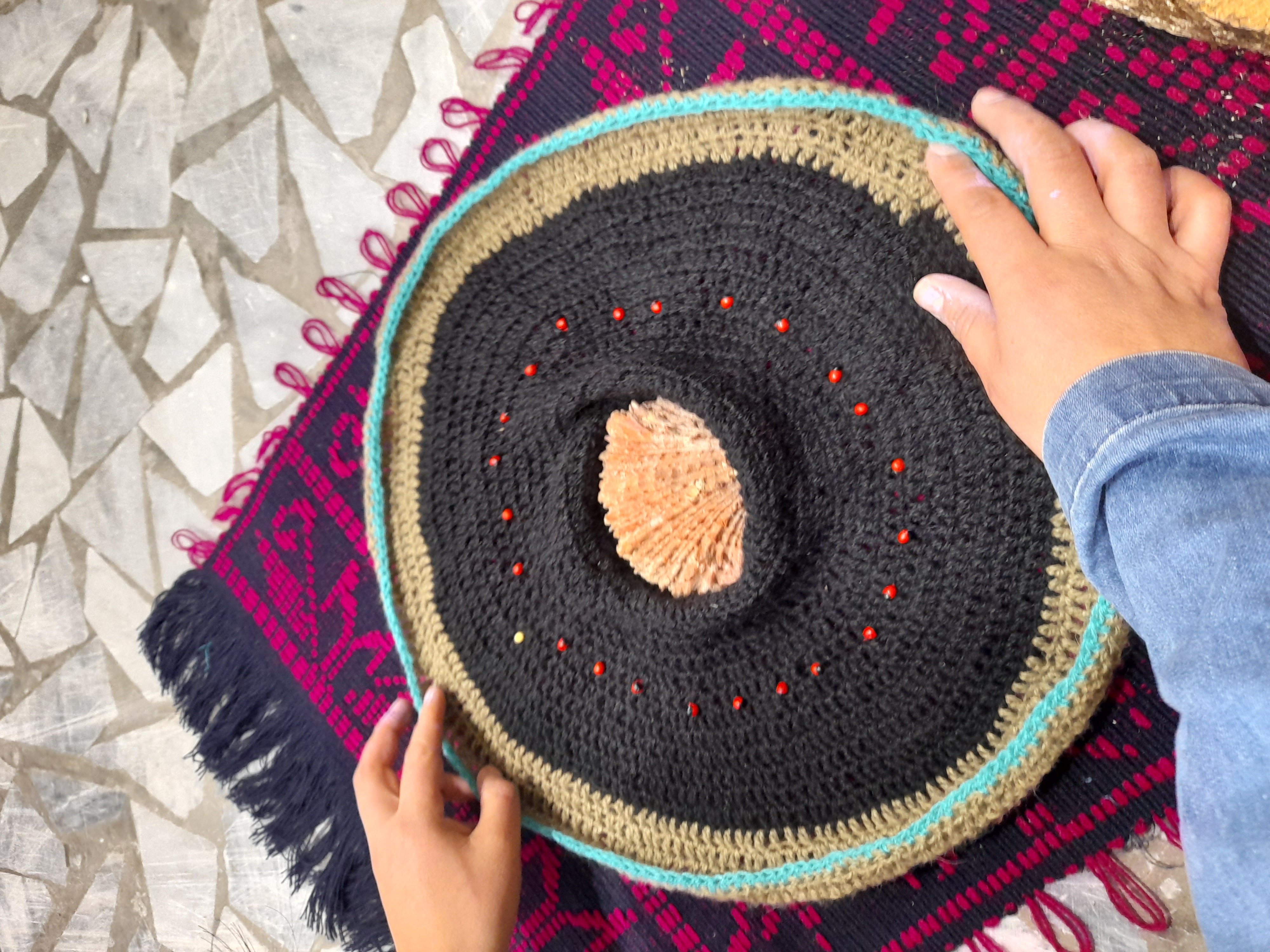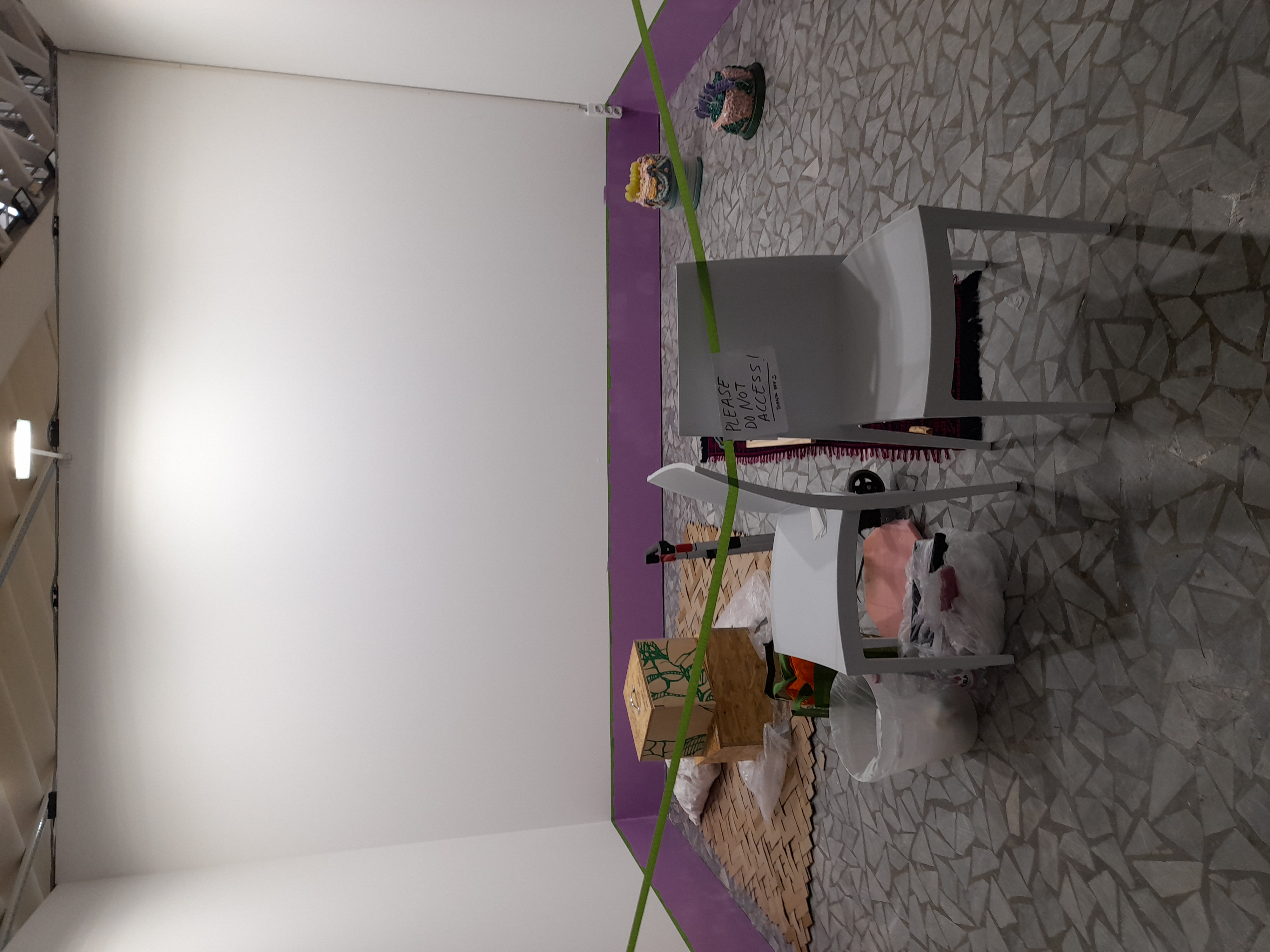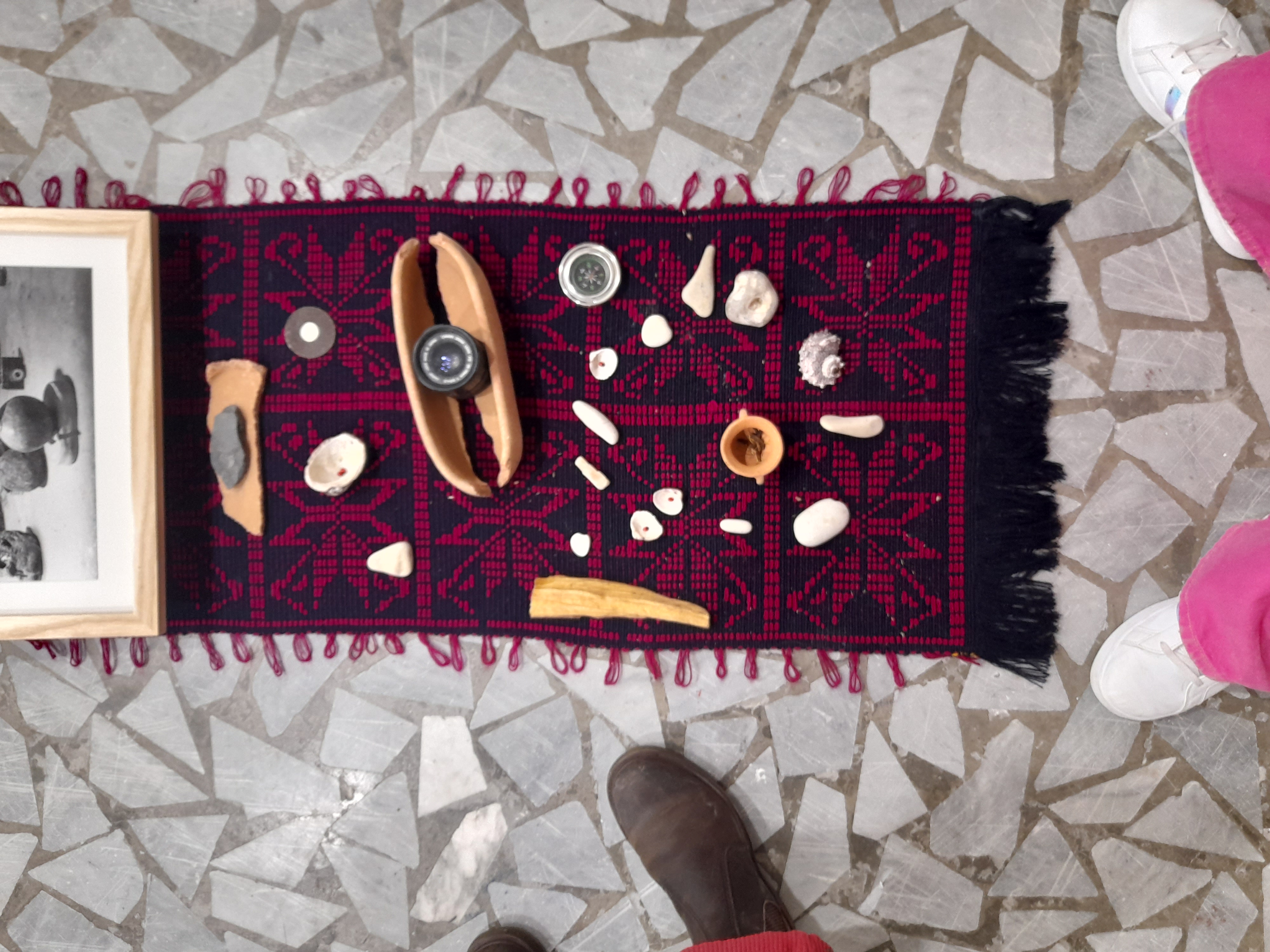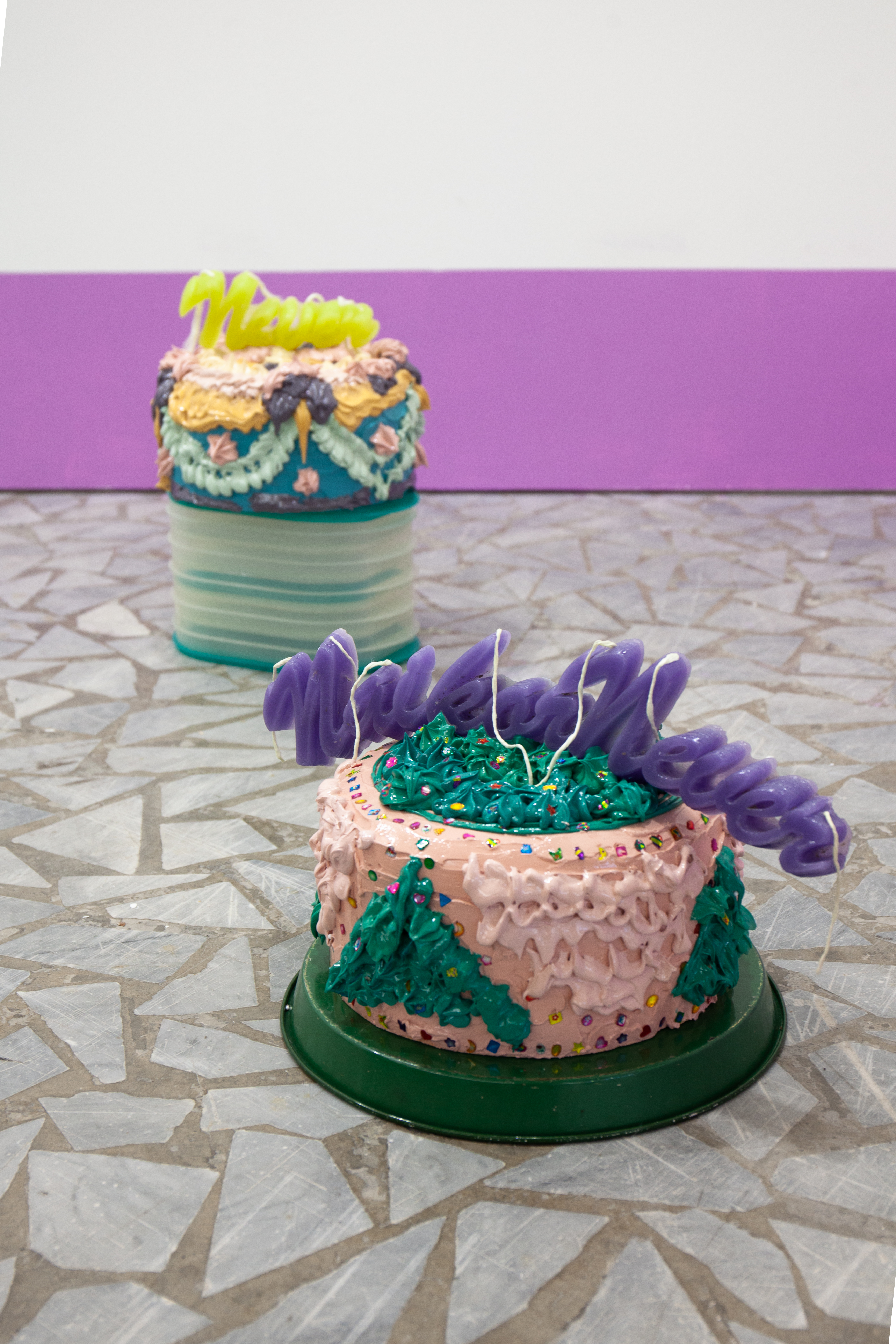 I wrote this for "Ai Miz Yu" / Escribí esto para "Ai Miz Yu"
This application won the "open call" for young curators by the art fair The Others / Esta aplicación ganó la convocatoria de la feria The Others, Italia
I made this playlist about the exhibition, if you click here you can also see some photographic outtakes of the exhibition and my time in Turin / Hice esta lista de reproducción sobre la exposición, si haces clic aquí también puedes ver algunas tomas fotográficas de la exposición y de mi estancia en Turín